Possible Essay Topics For College Applications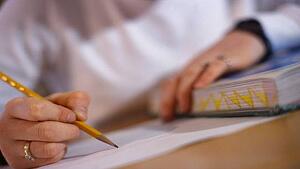 When applying for admission to your selected colleges, most colleges will require you to write a personal statement to submit along with your college application. To assist you in writing your best personal statement, colleges might provide creative college essay prompts to help stimulate your thinking process so that you can write the best possible personal statement.
In case that colleges don't provide creative college essay prompts we've listed 25 creative college essay prompt to help you write your best possible personal statement:
1. Describe an experience where you were unsuccessful in achieving your goal. What lessons did you learn from this experience?
2. Think back to a situation in your life where you had to decide between taking a risk and playing it safe. Which choice did you make? What was the outcome of your choice? Would you have made the same decision looking back on the experience or would you have made a different decision?
3. What movie, poem, musical composition, or novel has most influenced your life and the way that you view the world? Why?
4. Describe an experience that forever changed your life and your outlook on life.
5. Why have you chosen to spend the next four years of your life in college?
6. What do you plan on doing after you graduate from college?
7. As of right now, what do you see as your long-term goals in life?
8. If you were given the ability to change one moment in your life, would you do so? Why or why not? If so, what moment would you change and why?
9. Presuming there was only one open admission spot remaining, why should this college choose to accept your application and not that of another student?
10. What would you describe to be your most unique or special skill that differentiates you from everyone else?
11. Describe some tasks that you have accomplished over the past two years that have no connection to academic studies.
12. If you had the chance to have a 30-minute conversation with any person in human history (either living or deceased), who would be the person you choose? Why? What topics would you discuss with this person?
13. If you could be any animal in recorded history, what animal would you choose? Why?
14. If you were given the capability to travel back in time to any period in history, where would you head to and why?
15. What do you consider to be the best advice you ever received? Who gave you that advice and did you follow that advice or not?
16. What do you consider to be the most important political or social movement of the 20th century? Why?
17. What advice would you offer to a student just beginning his/her high school career?
18. Devise a question that is not on this college admission form and provide a complete, thoughtful answer to it.
19. Choose one quotation that defines who you are and explain why that quotation describes you so well.
20. How has the neighborhood you've grown up in molded you into the person you are today?
21. Imagine that you have written a 400-page autobiography of your life to this point. What would page 150 of that autobiography say?
22. Choose the invention that you think has had the most negative impact on our world and explain why you chose that invention.
23. If you had the ability to read other people's minds (a.k.a. telepathy), would you use this ability or not? Why?
24. Tell a story that directly or indirectly illustrates the type of person you are.
25. Describe the most embarrassing moment of your life and explain what you learned from that experience and how it has made you a better or stronger person today.
The 25 creative college essay prompts listed above should give you a starting point to write your own personal statement. The personal statement is used by most colleges to help them evaluate the type of person you are, which can help differentiate yourself from other applicants who have similar academic backgrounds to yours. By considering the 25 creative college essay prompts above, you can be more prepared to write an engaging personal statement that will let your personality shine through and will help you to be accepted into the college of your choice.
The college essay is tough. It's not writing it that's the hard part – it's deciding what to write about that can be difficult. What's most curious about the college essay is that many of the topics on this list (those that should be avoided) also happen to be some of the most commonly used topics out there.
But, why? Why are students writing about boring, tired out subjects?
A lack of creativity? Certainly not! Students know how to be creative.
A lack of gumption? Doubtful – many students even take it upon themselves to create their own version of an anti-essay (see number seven on the list).
For many students, the issue is the narrative, which begins at the essay's focus: the topic.
For example:
A boring essay details a summary of Joe's mission trip to Guatemala, where he volunteered at a local school with his family.

A great essay details Joe's experience during his mission trip to Guatemala, where he volunteered at a local school with his family. It was there he met Anita, a local elderly woman who wanted to learn how to read but came from a poor family so she never had the opportunity. Joe and Anita developed a friendship…
See, you want to read more of the story, right? But, the first essay example didn't make you want to continue reading on to learn any more details. That's the difference.
You may think you know what you're going to write your college admissions essay about but, before you do, read this list to learn what topics you should avoid and why.
1. A Summary of Your Accomplishments
College essays are similar to life and, in life, nobody likes a braggart. These topics are broad, unfocused and make a boring read.
You may have accomplished a lot, but let your essay speak by allowing the reader to get to know you as a person through your experiences – not through you telling them how accomplished you are.
After reading your essay, a person should be able to come up with their own assessment of you – people don't like to be told how to think.
2. Highly Polarized or Sensitive Topics
The key topics to avoid here are the same as those at the Thanksgiving table: politics and religion.
Avoid preaching about sensitive topics, no matter how passionate you are about a particular one. You never know who is going to be reading your admissions essay and the goal at hand is to gain admission into college.
3. Sports
The sports essay is predictable and should be avoided, if possible. Everyone knows how an athletic story will play out, regardless of the story or the sport. Find another topic that is unique and hasn't been covered a million times over.
Admissions officers have heard enough about "the thrill of victory" and "the agony of defeat" in relation to high school athletics and they are sick and tired of pretending to care.
4. Humor
Stop trying to be so funny. You may have a story in your essay that's funny and that's okay – but that's different. Make sure you're funny for a reason and not just funny because you're attempting to be. If it comes out naturally in your essay, great. If it doesn't, then don't force it. Admissions officers will see the futile attempt – and likely not find it amusing.
5. Why You're SO Lucky
We get it. You're privileged and you appreciate it, which is great. However, discussing it doesn't make for a great essay. It's actually super boring and, perhaps, may cause some eyes to roll.
Avoid this topic at all costs unless you're starting with that followed up with some along the lines of, "…so I decided to leave my cushy private school to switch places at a public high school in Detroit with an inner-city teen and this is what happened." Now THAT would make for an interesting essay.
6. Volunteer Experiences & Trips
This may be one of the most popular essay topics out there…and it's also one of the most boring clichés around. Nobody needs a summary of your vacation – people know what happens on mission trips and during volunteer hours.
While you should feel free to mention a great experience or trip, but your entire essay should not talk about your one experience volunteering during a mission trip in Costa Rica.
If you do want to bring up these topics, try to think of something interesting or unexpected that happened during your trip.
Did a particular person or experience have an impact on you? Specific happenings can make great topics – try to think of something unusual and craft your essay around that experience, instead. (See example within the opening of this article.)
7. Self-Expression
So, you're creative, smart and so over this whole essay thing. You're not going to be put inside a box with a regular essay; you're going to do your own thing. You're going to whatever you feel like writing. Some of the best and brightest students do this: basically, they create the anti-essay.
Fine, but be prepared to write whatever you feel like writing from a college that may not be your first choice.
Whether it's a poem, a random stream of thoughts, sarcasm, or some other form of writing in order to feel more creative, it's not always the best idea. Before you do this, remember one thing: the sole purpose of your college essay is to get into college. You can show off later.
8. Illegal or Illicit Behavior
Drug and alcohol use, sex, arrests and/or jail time are topics that you should steer clear of, even if they are life issues you've worked through.
You would not want your judgment to be called into question for the decisions you've made (even if they are in the past) or for making the decision to write about the decisions you've made. Either way, it's risky business to go this route and is not recommended.
9. The Most Important [Person, Place, Thing] in My Life
Read this aloud. Doesn't this topic sound like an assignment that a second or third grader would write about? It really does and, if a child can handle it, it probably won't gain you a lot of points with college admissions officers.
10. Tragedies
Topics like death and divorce are cautionary because they can be extremely difficult to write about.
While these topics are tough, if you feel passionately that a particular tragedy impacted your life significantly and you do want to write about it, try to keep the essay's focus on you.
Think about your feelings regarding the situation, how it affected you and what you learned from the experience rather than just simply recalling the situation or the person you lost.
Need Money to Pay for College?
Every semester, Fastweb helps thousands of students pay for school by matching them to scholarships, grants, and internships, for which they actually qualify. You'll find high value scholarships like VIP Voice's $5,000 Scholarship, and easy to enter scholarships like Niche $2,000 No Essay Scholarship, and internships with companies like Apple, Google, Dreamworks, and even NASA!
Join today to get matched to scholarships or internships for you!
---